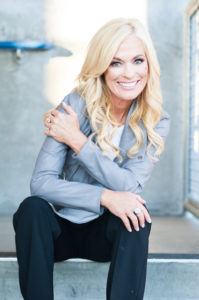 Kathleen Baty is the Founder and CEO of Safety Chick Enterprises, a firm whose mission is to change the way personal safety is embraced nationally. She believes that people do not respond to fear, but rather, by being empowered to make smart safety choices.
Kathleen, herself the victim of a kidnapping attempt at gun point by an obsessive stalker, teamed up with then California State Senator Ed Royce to pass the nation's first anti-stalking law (SB2184). Then, she and now US Congressman Royce teamed up again to help pass the first Federal Anti-Stalking Law (H.R. 3230).
She's spoken to millions of people through appearances on and contributing features to The Today Show, America's Most Wanted, Inside Edition, Good Morning America, The Security Brief with Paul Viollis, and ABC World News Tonight. Kathleen and SafetyChick Enterprises have been featured in People, Time, Glamour, Redbook, Women's Day and USA Today and she's the author of two books, A girls gotta do what a girls gotta do: the ultimate guide to living safe and smart (Rodale Press) and College Safety 101: Miss Independent's Guide to Empowerment, Confidence and Staying Safe (Chronicle Books).
Kathleen is currently working with the Transportation & Safety Administration (TSA) and Homeland Security (DHS) as the Host/Moderator for our country's new Anti-Terrorism Training and Education Videos, and can be seen at www.tsa.gov/firstobserverplus  She is a member of the International Association of Chiefs of Police (IACP), the National Association of Threat Assessment Professionals Conference (ATAP), the American Society of Industrial Security (ASIS) and the High Tech Criminal Investigators Association (HTCIA). Additionally, Kathleen helped create the country's first stalking course for Police Officer's Standards and Training (POST).