College Safety 101
The New Book!
College Safety 101:
Miss Independent's Guide to Empowerment, Confidence and Staying Safe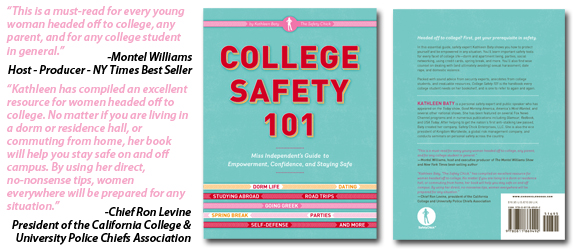 If you are headed to college or already there-this book is a must-read for you. It covers virtually every aspect of college life and the safety issues that go along with it. I have combined my years of training with various law enforcement agencies and security professionals along with my hard won knowledge and first-hand experience of being a Stalking Victim.
I created this guidebook to teach you how to navigate through all of the wonderful experiences of college without falling victim to possible dangers or crime. The book covers everything from Dorm and Apartment living, parties, social networking, using credit cards, spring break, studying abroad, and much more. You will also find wise counsel on dealing with (and ultimately avoiding) Date Rape, Sexual Harrassment and Domestic Violence.
Packed with sound advice from safety experts, anecdotes from college students and invaluable resources, College Safety 101 is the handbook every college student needs on her bookshelf, and is one to refer to again, and again.
**Makes the perfect graduation, birthday or holiday gift as well!
$16.95