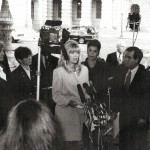 It's that time again, January is NATIONAL STALKING AWARENESS MONTH! Can't believe how fast this year went!! Here is a photo of US Congressman Ed Royce and I lobbying back in 1996 for Federal Anti-Stalking Law…I still receive dozens of emails from stalking victims asking what they should do and how they can get help. Here are VITAL tips to help navigate your case with the police and keep you safe…
THE SAFETY CHICK CHECKLIST:
WHAT TO DO IF YOU ARE BEING STALKED
MAKE IT CLEAR TO THE STALKER YOU WANT NO FURTHER CONTACT
DOCUMENT ALL INCIDENTS IN A JOURNAL: Include time, Date and description of event
SAVE ALL EVIDENCE: Phone messages, e-mails, letters, gifts, etc.
CONTACT THE POLICE: Bring all evidence to the Police Station 
KEEP A CAMERA AND/OR VIDEO CAMERA ON HAND:  Snap his picture or videotape his antics.  DO NOT put yourself in danger to get the shot. Stay in your car or home when taking the picture and make sure the environment is safe before you videotape any damage that has been done
MAKE AN EMERGENCY CONTACT LIST FOR YOU AND YOUR FAMILY: Include phone numbers of Police Station (911 if it's urgent), Name and Badge number of officer assigned to your case, Child Care or School contact numbers, name and number of attorney or prosecutor 
AVOID ANY FURTHER CONTACT WITH THE STALKER: DO NOT communicate with your stalker in any way.  Change your daily routine.  Shop at a different grocery store; drive home a different way every day.  If your situation is extremely dangerous, relocate. (Talk with police officials or victim assistance organizations for help)
*Security Consulting Services available, contact info@safetychick.com for more information.